The Advantages of Recycled Plastic Outdoor Furniture by KirbyBuilt Products
If you are in the market for recycled plastic outdoor furniture, there are plenty of products out there to choose from. That means conducting research and asking questions are paramount to ensuring you get the recycled plastic benches, picnic tables, seating, trash receptacles and message centers that meet the demanding needs of your outdoor environment. KirbyBuilt gets its fair share of questions about recycled outdoor furniture. Two of the most common are "why recycled plastic?" and "why should we choose you over the competition?" We answer those questions and more in this FAQ.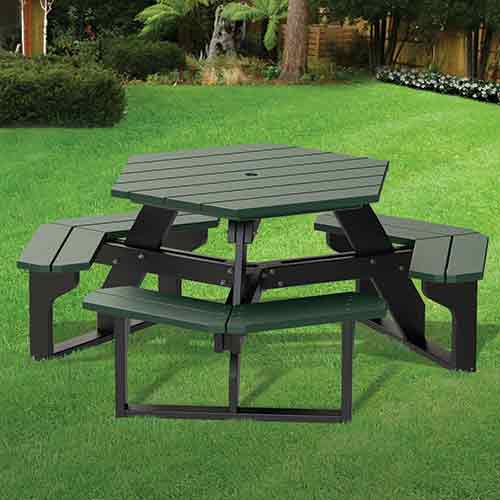 Recycled Plastic Hex Table
Why should I consider recycled plastic furniture for my spaces?
In brief, recycled plastic furniture is highly durable, easy to maintain, and attractive, among its other qualities. It's also eco-friendly with 100-percent recycled materials, which helps you do your part in making the world a better place.
How is your plastic lumber made and what kind of plastic is it made of?
Our recycled plastic is made of milk jugs that would otherwise end up in landfills. Milk jug plastic is superior to other plastics because of its strength and consistency. When the jugs arrive at the facility, they are inspected, ground into flakes and thoroughly cleaned. It's then melted, once again inspected and finally transformed into the lumber you see in our products. Our quality control, high-end technology and craftsmanship make our plastic furniture superior to other recycled plastic outdoor furniture manufacturers.
How durable is the plastic?
Unlike most wood furniture, our products are chip, fade and rot resistant. They also hold up against all kinds of climate, including the salty coastlines of southern California, the soaring heat of Arizona and Texas, and the frigid temperatures all along the northern United States. We even back them up with a 50-year guarantee against breakage.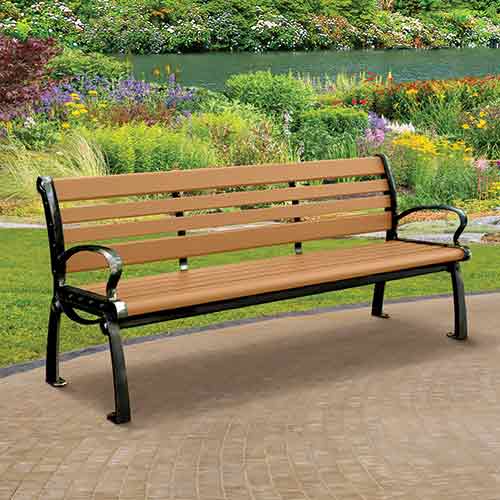 Recycled Plastic Bench
How do you clean and maintain the material?
That's an easy one. For routine cleaning, all you need is soap and water. Thoroughly wash it with a little elbow grease and your product will look like new for years to come. Also, you don't have to take the products in for the winter like other furniture. Simply leave them outdoors with confidence and they will look the same next season.
What about scratching, graffiti and vandalism?
The material is graffiti resistant as well. Spray paint, marker or any other discoloration can be removed easily the great majority of the time with simple paint thinner or comparable product. 
How strong is the plastic? Does it warp?
Our recycled outdoor furniture made from recycled plastic is solid all the way through, just like wood. That means no porous textures that can create weak spots, nor does it have what is commonly referred to as semi-hollow "honeycomb" interiors. These inferior products are prone to warping and breakdown over time. Some of our competitors use this material and only offer a three- or five-year warranty, compared to our 50-year guarantee.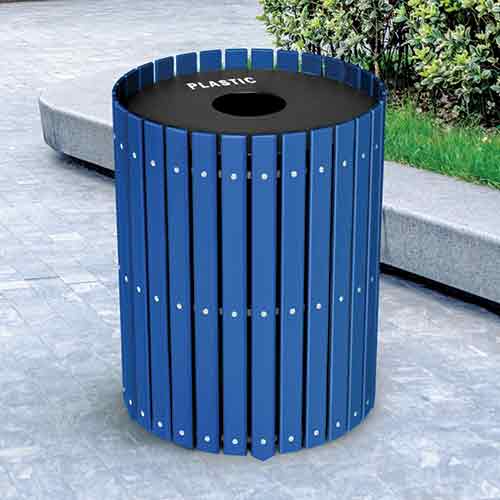 Recycled Plastic Slatted Receptacle
It looks good in photos. What does it look like up close?
Our standard recycled plastic furniture is available in a variety of colors and has a wood-like appearance. It's perfect for those searching for the look of wood without the problems that are typical of that material. If you want to go a step further, consider our Wood Grain Naturals, recycled plastic that is embossed during production, giving the surface actual grooves and an appearance that replicates wood even more. Want to see it in person? You can request a sample here.
What about the hardware?
The screws, brackets and other hardware on our furniture are made with stainless steel. That means they won't rust. Many competitors use hardware that is made of zinc, which is prone to rust and oftentimes leads to the breakdown of the hardware after a short time.
Where are your products made?
Our recycled plastic furniture is made in the USA.