Outdoor Concrete Furniture a Durable, Low-Maintenance, Attractive Choice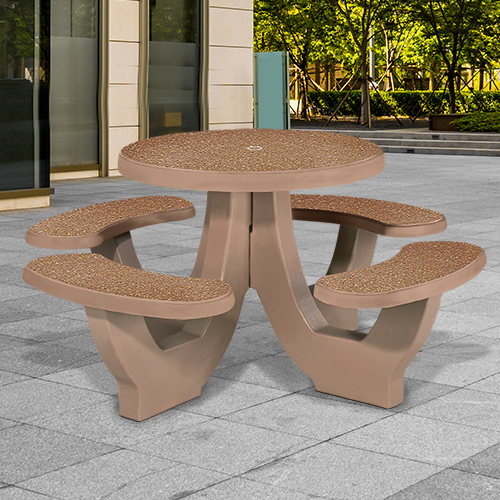 Bayside Concrete Round Table
Do a quick thesaurus search on the word "concrete," and, unsurprisingly, terms like solid, real, definite and substantial pop up. It's true that concrete is highly durable and tenacious, which are just a few of the reasons why we manufacture a diverse offering of outdoor concrete furniture products. In fact, our collection of Concrete Tables, Concrete Receptacles and Concrete Benches, also are low-maintenance, attractive and practical, as well. Below we detail a few of these attributes and more to explain why concrete may just be the appropriate material for the outdoor concrete furniture products you select for your environment and outdoor spaces.
Durability
As mentioned above, durability is an obvious trait of most outdoor concrete furniture. For example, products like our Bayside Backless Outdoor Concrete Benches are made with steel-reinforced, precast concrete that makes it even more enduring, long-lasting and able to stand up to heavy-usage and climates of all kinds. We're so confident that we even back this product up with a 25-year guarantee against breakage. We also test our products to meet standards to ensure we have the strongest material on the market.
Mixed-Material
Concrete is a popular choice because it plays well with other materials. For example, our Orchard Outdoor Concrete Receptacles are paired with plastic domes or flat, powder-coated metal lids, along with rigid plastic liners. Not only does this make for an attractive appearance, it also makes removing the lids and liners easier since they are not made of heavy concrete. In addition, our Orchard Receptacles are made with precast concrete bases with premium recycled plastic boards for aesthetic appeal and durability.
Theft deterrent
Concrete is not only heavy duty, it's also just heavy in general. That means it's hard to move. So, if theft is a concern in your public spaces, products like our Round Bayside Outdoor Concrete Tables will give you peace of mind that it will not be picked up easily and stolen.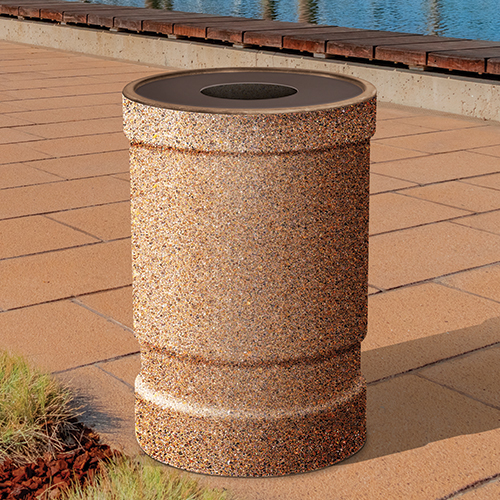 Heavy Concrete Receptacle
Weight capacity
Unlike many inferior materials on the market, concrete can hold a great deal of weight. That's because the highly durable seats and tabletops on products like our Outdoor Concrete Square Tables are supported by concrete legs and a support system that are strong and also made with steel-reinforced, precast concrete. This product will not bend or sag. And like we said, our 25-year warranty guarantees it.
Appearance
Concrete furniture may conjure up images of products that are only available in slab grays that may not fit into your environment. While we do offer options in this attractive, classic hue, we also offer outdoor concrete furniture products in colors that mimic nature. In addition, products like our Square Bayside Outdoor Concrete Tables are produced with either Tan Aggregate or White Aggregate sealed seats and tops, giving the product an attractive and stain resistant surface.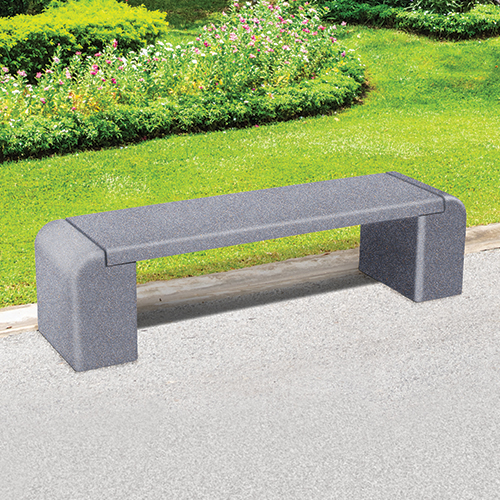 Bayside Concrete Bench
Low maintenance
Last but not least, concrete is very low maintenance. Place your product and let it perform. When it does become littered with dirt, debris or other substances, simply spray it off with a hose or use soap and water and give it a wash.
Click here to learn more about our concrete benches, concrete picnic tables, concrete waste receptacles, concrete planters and concrete smokers urns.